Beech Class
Take a look at the wonderful learning that has been happening in our class!
It's BARVEMBER! All month in November, schools around the country focus on using the bar model to solve a whole range of problems. We have been doing this in our maths and the children are now super confident with the method. If you have a problem and you don't have all the information a bar model is a great method to help you to visualise the problem! We have been exploring multiplication and working hard on our times tables. We have been rolling our numbers and looking at patterns in between the tables. We have also been learning strategies to help us when we get stuck on a multiplication.
Can you solve this problem using the bar model:
Mrs Sands has 121 boxes of pencils. She shares them equally between 11 classes. How many boxes of pencils does each class get?
Beech class have loved learning about Tutankhamun and putting their summer homework to great use with all the amazing facts they found. We have been using our work on non-chronological reports focused on Seti I to look at the language features of non fiction writing. We have focused on using fronted adverbials to say where, when or how and using both coordinating and subordinating conjunctions to create complex sentences. We have been doing some fantastic planning and are now ready to write our own reports of Tutankhamun and are itching like scarab beetles to get started!
This term we have been learning all about electricity in our Science lessons. We learnt how to put various components together to make a complete circuit and then explored which materials are good conductors or insulators. We also used an online circuit builder to experiment with switches and cells in series. Here's the link if you want to have another go at home:
Last week, we investigated static electricity and had great fun rubbing balloons on our jumpers and then placing them above our heads to see if our hair stood up on end!
We have really enjoyed learning new skills in PE this half term. We have worked on our control, speed and positioning in hockey to dribble and pass the ball to a partner and on our own. Beech class had fantastic control and were even able to increase their speed and move with the ball with great confidence. Excellent work Beech class!
In DT we have had so much fun studying the structures of pavilions and enjoyed exploring the stability of different shape structures. After looking at and reviewing existing pavilions we have now designed some of our own and can't wait to start constructing them... but will everything go to plan or will we need to make some design changes?
Well done to our Stars and Learners of the week:
Star: Ben- for managing his emotions really well
Learner: Isabella - For excellent improvement in her confidence with column addition
Star: Emmeline - for growing in confidence in the classroom and increasingly sharing her ideas.
Learner: Henry - for an excellent retelling of Cinderella in writing.
Star: Laicee - for always showing ready, respectful and safe
Learner: Henry - for giving 100% effort in his writing
Star: Tianna - for challenging herself to work independently
Learner: Harriet- for editing her writing well and varying her sentence starters
______________________________________________________________________________________________________
Beech class have been working really hard on writing their own Cinderella narratives after studying 'The Egyptian Cinderella' by Shirley Climo. They have looked at using expanded noun phrases to provide additional description for the reader and how to use and punctuate direct speech to move the story forward. We have worked hard on looking at using subordinate clauses to vary our writing too.
In history we have loved learning all about how the Egyptian civilisation utilised the river Nile and used their hierarchy to establish a successful society with thriving agricultural knowledge and leadership. We used our geographical map skills to plot the discoveries of various tombs on maps of the Kings Valley.
In art we have studied and analysed narrative paintings and enjoyed creating our own. We have focused on the social injustice which can be conveyed through artwork such as gender and race inequality, wealth and social class hierarchy.
We have been securing our understanding of addition and subtraction using a range of methods including the column methods, number lines and using various manipulatives to support our understanding.
Well done to our Stars and Learners of the week:
Star: Oscar - for excellent focus and effort
Learner: Albie - for using his phonics to write sentences independently
Star: Ella - for having an excellent understanding of expectations
Learner: Alice - for fantastic focus and producing great writing in English
_______________________________________________________________________________________________________
Wow! What a wonderful start to the term we have had! We had so much fun sharing the incredible efforts of our summer homework task. It was so great to see the effort that everyone has put in to present their learning of the ancient Egyptians. Some people created artwork, power points, books, crafts and so much more. We have now put these fantastic pieces up in our classroom and on display to share with the rest of the school. We even created our own mini-museum to share our findings.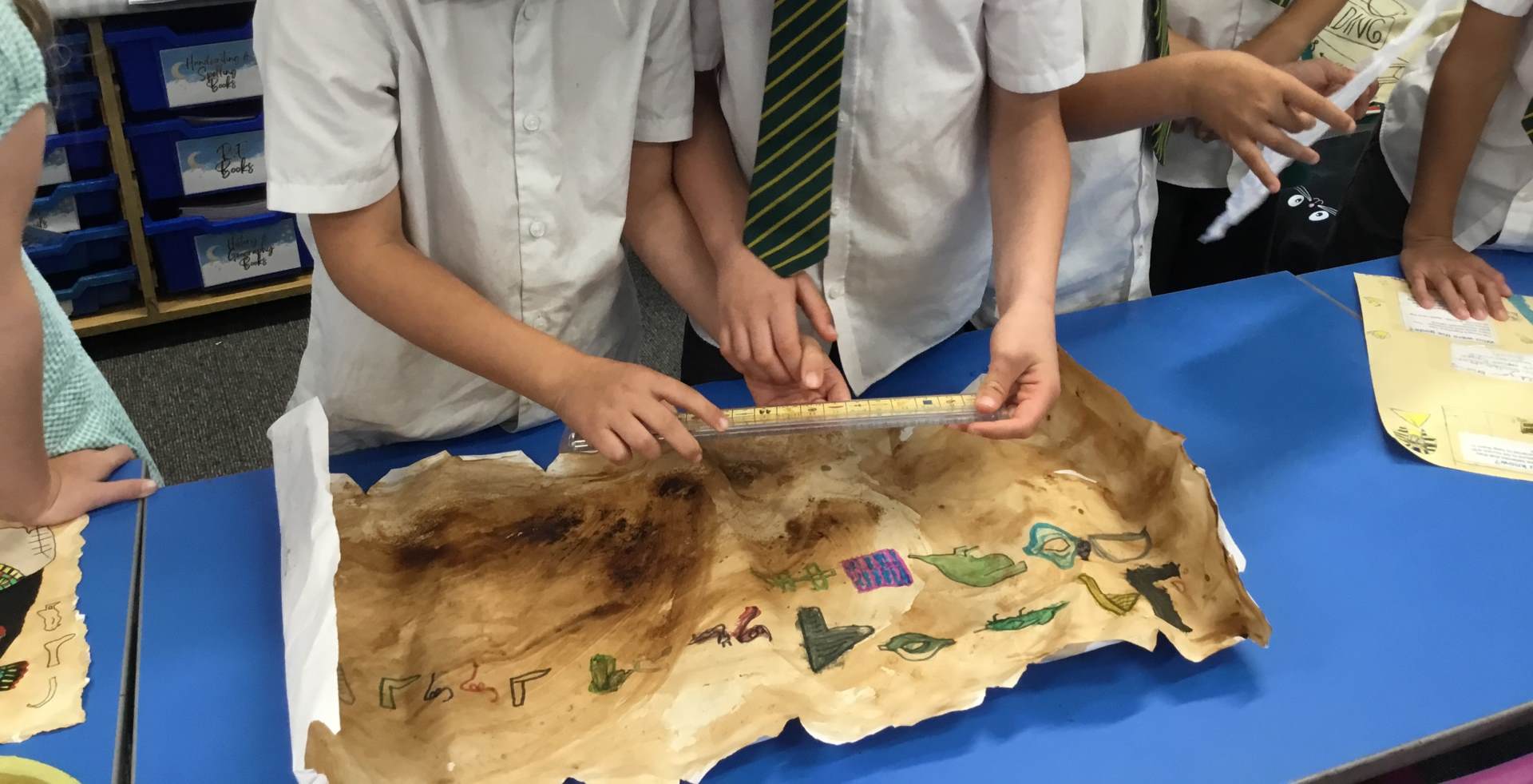 We have also been working really hard on securing our knowledge of number; using base 10 and place value counters to help us to really build a strong foundation for place value (this will really help us later when we come to calculating!)
We have loved reading Varjak Paw as our class read and cannot wait to see what those Mesopotamian blue's get up to next.
We have explored The Egyptian Cinderella and used our writing lenses to create some really super writing. We have worked hard on vocabulary choices and sentence structure to make sure our sentences make sense and are punctuated correctly.
In our art lessons we have been studying narrative paintings by a range of artists one that we were particularly interested in was Peter Brueghel. We found it really interested to point out all the different people captured in the painting and discussing how people's lives are different and how this can be portrayed in artwork. We are really looking forward to creating some of our own narrative artwork in the upcoming weeks.
Who can you find in the painting?
Well done to our Stars and Learners of the week:
Star: Laila for consistently being recognised for the schools values.
Learner: George for fantastic effort in maths.
_______________________________________________________________________________________________________
Welcome to Year 4 Beech Class!
Please see below a presentation of all the learning that will be exploring during the Autumn term.
/i/video/Yr4_PPT.mp4